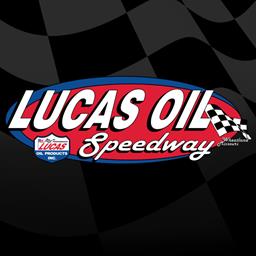 6/3/2023 - Lucas Oil Speedway
Wheatland, MO
Ozarks Coca-Cola/Dr Pepper Bottling Company presents round #6 of the Lucas Oil Speedway Big Adventure RV Weekly Racing Series, plus Lucas Oil Speedway will also be offering special $5 ticket prices for all Adults, Seniors, and Youth! Kids 5 and under are still FREE.
Featuring the Hermitage Lumber Late Models, Cedar Creek Beef Jerky USRA Modifieds, O'Reilly Auto Parts USRA Stock Cars, and Ozark Golf Cars USRA B-Mods. The Ozark Golf Cars USRA B-Mods will be running a special 25-lap $750 to win the main event as the featured class of the evening.
Pit Gates open at 4:00, Spectator Gates open at 5:00, hot laps at 6:30, and racing at 7:05.
General Admission tickets (6 and Up) $5
Kids (5 and under) FREE
Pit Pass $35
A Modifieds
USRA Modifieds

15 entries
Full Event Information on MyRacePass
Competitor Overview
---

Carlos Ahumada Jr.
El Paso, TX
| USRA Modifieds | Start | Finish | +/- |
| --- | --- | --- | --- |
| A Feature 1 | 6 | 3 | 3 |
| Heat 1 | 2 | 2 | - |
USRA Modifieds
Finish
Start
#
Competitor
Hometown
+/-
1
1
712
Trevor Hughes Westville, OK
Westville, OK
-
2
2
3B
Nic Bidinger Perry, KS
Perry, KS
-
3
6
65X
Carlos Ahumada Jr. El Paso, TX
El Paso, TX
3
4
4
37
Clint Johnson Neosho, MO
Neosho, MO
-
5
3
98
Jeff Cutshaw Bolivar, MO
Bolivar, MO
-2
6
8
03
Chase Jones El Dorado Springs, MO
El Dorado Springs, MO
2
7
5
38C
Jason Pursley Hermitage, MO
Hermitage, MO
-2
8
9
21M
Ryan Middaugh Fulton, MO
Fulton, MO
1
9
12
21W
Tracy Wolf Buffalo, MO
Buffalo, MO
3
10
14
5
Robbie Reed Mexico, MO
Mexico, MO
4
11
11
14
Kameron Grindstaff Independence, MO
Independence, MO
-
12
13
21
Greg Scheffler Pittsburg, MO
Pittsburg, MO
1
13
7
155
Terry Kirk Urbana, MO
Urbana, MO
-6
14 DNF
10
23
Lucas Dobbs El Dorado Springs, MO
El Dorado Springs, MO
-4
DNS
15
F26
Jay Fields Hermitage, MO
Hermitage, MO
-
Finish
Start
#
Competitor
Hometown
+/-
1
1
3B
Nic Bidinger Perry, KS
Perry, KS
-
2
2
65X
Carlos Ahumada Jr. El Paso, TX
El Paso, TX
-
3
5
98
Jeff Cutshaw Bolivar, MO
Bolivar, MO
2
4
4
37
Clint Johnson Neosho, MO
Neosho, MO
-
5
3
23
Lucas Dobbs El Dorado Springs, MO
El Dorado Springs, MO
-2
6
6
21W
Tracy Wolf Buffalo, MO
Buffalo, MO
-
7
7
21
Greg Scheffler Pittsburg, MO
Pittsburg, MO
-
8
8
5
Robbie Reed Mexico, MO
Mexico, MO
-
Finish
Start
#
Competitor
Hometown
+/-
1
2
712
Trevor Hughes Westville, OK
Westville, OK
1
2
3
03
Chase Jones El Dorado Springs, MO
El Dorado Springs, MO
1
3
4
155
Terry Kirk Urbana, MO
Urbana, MO
1
4
5
38C
Jason Pursley Hermitage, MO
Hermitage, MO
1
5
6
21M
Ryan Middaugh Fulton, MO
Fulton, MO
1
6
7
14
Kameron Grindstaff Independence, MO
Independence, MO
1
7 DNF
1
F26
Jay Fields Hermitage, MO
Hermitage, MO
-6