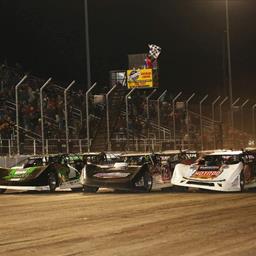 4/21/2023 - 81 Speedway
Park City, KS
Pits Open 3:00 p.m.
Grandstands Open 5:00 p.m.
Drivers Meeting 6:15 p.m.
Hot Laps & Qualifying 6:30 p.m.
Racing to follow.
General Admission:
Adults: $25.00
Sr/Military: $20.00
Ages 6-16: $10.00
Ages 5 & Under: FREE
Pit Pass:
Adult Pit Pass: $40.00
Kids Ages 6-10: $20.00
Tailgate Parking $30 (Plus cost of Pit Passes)
Other Non-Tow Vehicles $20 (Plus cost of Pit Passes)
NO outside food or drink
Bags are subject to search
A Modifieds

53 entries

USMTS - United States Modified Touring Series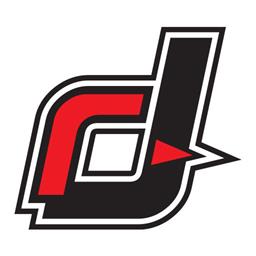 Available on RacinDirt
Full Event Information on MyRacePass
Competitor Overview
---

Carlos Ahumada Jr.
El Paso, TX
| A Modifieds | Start | Finish | +/- |
| --- | --- | --- | --- |
| A Feature 1 | 26 | 27 | -1 |
| B Feature 2 | 18 | 7 | 11 |
| Heat 1 | 5 | 11 | -6 |
| Qualifying 1 | 18.457 | 2 | 1 |
A Modifieds
35 Laps
A Feature 1Summit Racing Equipment
Finish
Start
#
Competitor
Hometown
+/-
1
4
4W
Tyler Wolff Fayetteville, AR
Fayetteville, AR
3
2
7
20
Rodney Sanders Happy, TX
Happy, TX
5
3
2
0
Jake O'Neil Tucson, AZ
Tucson, AZ
-1
4
3
10C
Cayden Carter Oskaloosa, IA
Oskaloosa, IA
-1
5
6
4R
Dereck Ramirez Woodward, OK
Woodward, OK
1
6
1
02
Tanner Mullens Wichita, KS
Wichita, KS
-5
7
5
11X
Tom Berry Jr. Des Moines, IA
Des Moines, IA
-2
8
8
75
Terry Phillips Springfield, MO
Springfield, MO
-
9
9
44T
Tanner Black Otis, KS
Otis, KS
-
10
14
87
Darron Fuqua Mayetta, KS
Mayetta, KS
4
11
15
24C
Jim Chisholm Osage, IA
Osage, IA
4
12
10
21
Jacob Bleess Chatfield, MN
Chatfield, MN
-2
13
17
12
Jason Hughes Watts, OK
Watts, OK
4
14
12
K9
Will Krup Mt. Carmel, IL
Mt. Carmel, IL
-2
15
25
4
Jeremy Nelson Alexandria, MN
Alexandria, MN
10
16
18
65
Tyler Davis Haysville, KS
Haysville, KS
2
17
11
33Z
Zack VanderBeek New Sharon, IA
New Sharon, IA
-6
18
13
45
Chase Holland Success, MS
Success, MS
-5
19
21
10B
Brandon Givens Wichita, KS
Wichita, KS
2
20
20
01
Jacob Hobscheidt Plattsmouth, NE
Plattsmouth, NE
-
21
28
21K
Kyle Brown Madrid, IA
Madrid, IA
7
22
16
60
Dan Ebert Lake Shore, MN
Lake Shore, MN
-6
23
19
58X
Gary Christian Broken Bow, OK
Broken Bow, OK
-4
24
22
25C
Cody Thompson Sioux City, IA
Sioux City, IA
-2
25
23
30
Dalton Kirk Edgerton, KS
Edgerton, KS
-2
26
24
55
Chris Kratzer Haysville, KS
Haysville, KS
-2
27
26
65X
Carlos Ahumada Jr. El Paso, TX
El Paso, TX
-1
28
29
15WX
Kale Westover Altus, OK
Altus, OK
1
29
27
38T
Dylan Thornton Orcutt, CA
Orcutt, CA
-2
30
30
99L
Steve Lavasseur River Falls, WI
River Falls, WI
-
15 Laps
B Feature 1Real Racing Wheels
Finish
Start
#
Competitor
Hometown
+/-
1
2
45
Chase Holland Success, MS
Success, MS
1
2
4
24C
Jim Chisholm Osage, IA
Osage, IA
2
3
8
12
Jason Hughes Watts, OK
Watts, OK
5
4
3
58X
Gary Christian Broken Bow, OK
Broken Bow, OK
-1
5
16
10B
Brandon Givens Wichita, KS
Wichita, KS
11
6
7
30
Dalton Kirk Edgerton, KS
Edgerton, KS
1
Top 6 transfer
7
14
15WX
Kale Westover Altus, OK
Altus, OK
7
8
5
16
Austin Siebert Grandview, MO
Grandview, MO
-3
9
1
99L
Steve Lavasseur River Falls, WI
River Falls, WI
-8
10
17
21K
Kyle Brown Madrid, IA
Madrid, IA
7
11
11
15W
Wyatt Gaggero Wichita, KS
Wichita, KS
-
12
19
96
Taton Hansen Spicer, MN
Spicer, MN
7
13
21
44K
Kelsie Foley Otis, KS
Otis, KS
8
14
15
96JR
Jon Herring Jr Woodward, OK
Woodward, OK
1
15
9
11N
Gene Nicholas Lowell, AR
Lowell, AR
-6
16
18
22N
Kevin Newell Wichita, KS
Wichita, KS
2
17
6
747
Colton Eck Goddard, KS
Goddard, KS
-11
18
12
7
Al Hejna Clear Lake, IA
Clear Lake, IA
-6
19
20
78
Billy Jack Brutchin Gladewater, TX
Gladewater, TX
1
20
13
91
Joe Duvall Justice, OK
Justice, OK
-7
DQ
10
38T
Dylan Thornton Orcutt, CA
Orcutt, CA
-
15 Laps
B Feature 2Real Racing Wheels
Finish
Start
#
Competitor
Hometown
+/-
1
1
87
Darron Fuqua Mayetta, KS
Mayetta, KS
-
2
4
60
Dan Ebert Lake Shore, MN
Lake Shore, MN
2
3
3
65
Tyler Davis Haysville, KS
Haysville, KS
-
4
9
01
Jacob Hobscheidt Plattsmouth, NE
Plattsmouth, NE
5
5
20
25C
Cody Thompson Sioux City, IA
Sioux City, IA
15
6
5
55
Chris Kratzer Haysville, KS
Haysville, KS
-1
Top 6 transfer
7
18
65X
Carlos Ahumada Jr. El Paso, TX
El Paso, TX
11
8
11
8
Dillon McCowan Urbana, MO
Urbana, MO
3
9
13
G3
Brendon Gemmill Wichita, KS
Wichita, KS
4
10
2
712
Trevor Hughes Westville, OK
Westville, OK
-8
11
14
4
Jeremy Nelson Alexandria, MN
Alexandria, MN
3
12
10
25
Scott Green Derby, KS
Derby, KS
-2
13
16
99T
T.J. Tolan Valley Center, KS
Valley Center, KS
3
14
12
7D
Davis Givens Hutchinson, KS
Hutchinson, KS
-2
15
17
40
Jessy Willard Mound City, KS
Mound City, KS
2
16
8
18
Bobby Mayfield Elk City, OK
Elk City, OK
-8
17
6
22B
Rick Beebe Shawnee, KS
Shawnee, KS
-11
18
7
49
Jake Timm Winona, MN
Winona, MN
-11
19
15
7E
Steve Emond El Dorado, KS
El Dorado, KS
-4
20
19
127
Paden Phillips Chanute, KS
Chanute, KS
-1
Finish
Start
#
Competitor
Hometown
+/-
1
2
02
Tanner Mullens Wichita, KS
Wichita, KS
1
2
1
4R
Dereck Ramirez Woodward, OK
Woodward, OK
-1
3
3
0
Jake O'Neil Tucson, AZ
Tucson, AZ
-
4
4
10C
Cayden Carter Oskaloosa, IA
Oskaloosa, IA
-
5
6
4W
Tyler Wolff Fayetteville, AR
Fayetteville, AR
1
6
5
11X
Tom Berry Jr. Des Moines, IA
Des Moines, IA
-1
7
7
20
Rodney Sanders Happy, TX
Happy, TX
-
8
8
75
Terry Phillips Springfield, MO
Springfield, MO
-
8 Laps
Heat 1Simpson Performance Products
Finish
Start
#
Competitor
Hometown
+/-
1
2
44T
Tanner Black Otis, KS
Otis, KS
1
2
6
0
Jake O'Neil Tucson, AZ
Tucson, AZ
4
3
7
99L
Steve Lavasseur River Falls, WI
River Falls, WI
4
4
3
16
Austin Siebert Grandview, MO
Grandview, MO
-1
5
8
24C
Jim Chisholm Osage, IA
Osage, IA
3
6
1
8
Dillon McCowan Urbana, MO
Urbana, MO
-5
7
9
25
Scott Green Derby, KS
Derby, KS
2
8
4
4
Jeremy Nelson Alexandria, MN
Alexandria, MN
-4
9
10
96JR
Jon Herring Jr Woodward, OK
Woodward, OK
1
10
11
40
Jessy Willard Mound City, KS
Mound City, KS
1
11
5
65X
Carlos Ahumada Jr. El Paso, TX
El Paso, TX
-6
Finish
Start
#
Competitor
Hometown
+/-
1
4
02
Tanner Mullens Wichita, KS
Wichita, KS
3
2
5
75
Terry Phillips Springfield, MO
Springfield, MO
3
3
6
20
Rodney Sanders Happy, TX
Happy, TX
3
4
2
747
Colton Eck Goddard, KS
Goddard, KS
-2
5
1
18
Bobby Mayfield Elk City, OK
Elk City, OK
-4
6
9
22B
Rick Beebe Shawnee, KS
Shawnee, KS
3
7
3
7D
Davis Givens Hutchinson, KS
Hutchinson, KS
-4
8
10
7
Al Hejna Clear Lake, IA
Clear Lake, IA
2
9
8
99T
T.J. Tolan Valley Center, KS
Valley Center, KS
-1
10
11
22N
Kevin Newell Wichita, KS
Wichita, KS
1
11
7
44K
Kelsie Foley Otis, KS
Otis, KS
-4
Finish
Start
#
Competitor
Hometown
+/-
1
2
21
Jacob Bleess Chatfield, MN
Chatfield, MN
1
2
6
4W
Tyler Wolff Fayetteville, AR
Fayetteville, AR
4
3
4
712
Trevor Hughes Westville, OK
Westville, OK
1
4
3
55
Chris Kratzer Haysville, KS
Haysville, KS
-1
5
10
65
Tyler Davis Haysville, KS
Haysville, KS
5
6
7
01
Jacob Hobscheidt Plattsmouth, NE
Plattsmouth, NE
1
7
11
11N
Gene Nicholas Lowell, AR
Lowell, AR
4
8
8
G3
Brendon Gemmill Wichita, KS
Wichita, KS
-
9
5
91
Joe Duvall Justice, OK
Justice, OK
-4
10
1
78
Billy Jack Brutchin Gladewater, TX
Gladewater, TX
-9
11
9
25C
Cody Thompson Sioux City, IA
Sioux City, IA
-2
Finish
Start
#
Competitor
Hometown
+/-
1
1
33Z
Zack VanderBeek New Sharon, IA
New Sharon, IA
-
2
4
K9
Will Krup Mt. Carmel, IL
Mt. Carmel, IL
2
3
6
11X
Tom Berry Jr. Des Moines, IA
Des Moines, IA
3
4
5
87
Darron Fuqua Mayetta, KS
Mayetta, KS
1
5
2
12
Jason Hughes Watts, OK
Watts, OK
-3
6
8
30
Dalton Kirk Edgerton, KS
Edgerton, KS
2
7
9
15W
Wyatt Gaggero Wichita, KS
Wichita, KS
2
8
7
15WX
Kale Westover Altus, OK
Altus, OK
-1
9
10
7E
Steve Emond El Dorado, KS
El Dorado, KS
1
10
3
127
Paden Phillips Chanute, KS
Chanute, KS
-7
8 Laps
Heat 5VP Race Fuels
Finish
Start
#
Competitor
Hometown
+/-
1
3
10C
Cayden Carter Oskaloosa, IA
Oskaloosa, IA
2
2
2
45
Chase Holland Success, MS
Success, MS
-
3
5
4R
Dereck Ramirez Woodward, OK
Woodward, OK
2
4
4
60
Dan Ebert Lake Shore, MN
Lake Shore, MN
-
5
6
58X
Gary Christian Broken Bow, OK
Broken Bow, OK
1
6
8
49
Jake Timm Winona, MN
Winona, MN
2
7
10
38T
Dylan Thornton Orcutt, CA
Orcutt, CA
3
8
1
10B
Brandon Givens Wichita, KS
Wichita, KS
-7
9
7
21K
Kyle Brown Madrid, IA
Madrid, IA
-2
10
9
96
Taton Hansen Spicer, MN
Spicer, MN
-1
Finish
Start
#
Competitor
Hometown
Time
1
2
0
Jake O'Neil Tucson, AZ
Tucson, AZ
18.377
2
3
65X
Carlos Ahumada Jr. El Paso, TX
El Paso, TX
18.457
3
1
4
Jeremy Nelson Alexandria, MN
Alexandria, MN
18.608
4
4
16
Austin Siebert Grandview, MO
Grandview, MO
18.753
5
11
44T
Tanner Black Otis, KS
Otis, KS
18.896
6
5
8
Dillon McCowan Urbana, MO
Urbana, MO
18.957
7
6
99L
Steve Lavasseur River Falls, WI
River Falls, WI
19.038
8
9
24C
Jim Chisholm Osage, IA
Osage, IA
19.111
9
8
25
Scott Green Derby, KS
Derby, KS
19.385
10
10
96JR
Jon Herring Jr Woodward, OK
Woodward, OK
19.639
11
7
40
Jessy Willard Mound City, KS
Mound City, KS
19.784
Finish
Start
#
Competitor
Hometown
Time
1
7
20
Rodney Sanders Happy, TX
Happy, TX
18.347
2
8
75
Terry Phillips Springfield, MO
Springfield, MO
18.356
3
5
02
Tanner Mullens Wichita, KS
Wichita, KS
18.760
4
11
7D
Davis Givens Hutchinson, KS
Hutchinson, KS
18.765
5
1
747
Colton Eck Goddard, KS
Goddard, KS
18.807
6
4
18
Bobby Mayfield Elk City, OK
Elk City, OK
18.829
7
3
44K
Kelsie Foley Otis, KS
Otis, KS
18.911
8
10
99T
T.J. Tolan Valley Center, KS
Valley Center, KS
19.215
9
2
22B
Rick Beebe Shawnee, KS
Shawnee, KS
19.697
10
9
7
Al Hejna Clear Lake, IA
Clear Lake, IA
19.886
11
6
22N
Kevin Newell Wichita, KS
Wichita, KS
20.543
Finish
Start
#
Competitor
Hometown
Time
1
10
4W
Tyler Wolff Fayetteville, AR
Fayetteville, AR
17.888
2
9
91
Joe Duvall Justice, OK
Justice, OK
18.140
3
5
712
Trevor Hughes Westville, OK
Westville, OK
18.432
4
11
55
Chris Kratzer Haysville, KS
Haysville, KS
18.482
5
3
21
Jacob Bleess Chatfield, MN
Chatfield, MN
18.501
6
7
78
Billy Jack Brutchin Gladewater, TX
Gladewater, TX
18.571
7
6
01
Jacob Hobscheidt Plattsmouth, NE
Plattsmouth, NE
18.609
8
2
G3
Brendon Gemmill Wichita, KS
Wichita, KS
18.702
9
1
25C
Cody Thompson Sioux City, IA
Sioux City, IA
18.737
10
8
65
Tyler Davis Haysville, KS
Haysville, KS
18.754
11
4
11N
Gene Nicholas Lowell, AR
Lowell, AR
18.800
Finish
Start
#
Competitor
Hometown
Time
1
2
11X
Tom Berry Jr. Des Moines, IA
Des Moines, IA
17.874
2
3
87
Darron Fuqua Mayetta, KS
Mayetta, KS
18.111
3
9
K9
Will Krup Mt. Carmel, IL
Mt. Carmel, IL
18.117
4
10
127
Paden Phillips Chanute, KS
Chanute, KS
18.148
5
6
12
Jason Hughes Watts, OK
Watts, OK
18.155
6
7
33Z
Zack VanderBeek New Sharon, IA
New Sharon, IA
18.162
7
5
15WX
Kale Westover Altus, OK
Altus, OK
18.524
8
8
30
Dalton Kirk Edgerton, KS
Edgerton, KS
18.573
9
4
15W
Wyatt Gaggero Wichita, KS
Wichita, KS
18.592
10
1
7E
Steve Emond El Dorado, KS
El Dorado, KS
20.807
Finish
Start
#
Competitor
Hometown
Time
1
1
58X
Gary Christian Broken Bow, OK
Broken Bow, OK
17.892
2
9
4R
Dereck Ramirez Woodward, OK
Woodward, OK
17.911
3
6
60
Dan Ebert Lake Shore, MN
Lake Shore, MN
17.939
4
7
10C
Cayden Carter Oskaloosa, IA
Oskaloosa, IA
18.011
5
5
45
Chase Holland Success, MS
Success, MS
18.041
6
8
10B
Brandon Givens Wichita, KS
Wichita, KS
18.102
7
4
21K
Kyle Brown Madrid, IA
Madrid, IA
18.174
8
10
49
Jake Timm Winona, MN
Winona, MN
18.215
9
2
96
Taton Hansen Spicer, MN
Spicer, MN
19.200
DQ
3
38T
Dylan Thornton Orcutt, CA
Orcutt, CA
17.928